Du er her: Hjem >> MedHist >> Biblioteket >> Mesopotamien_farmakope.php
Mesopotamiske farmakopéer
---
MS 2670
MS in Old Babylonian on clay, Babylonia, ca. 1900-1700 BC, 1 tablet, 10,4x7,8x3,2 cm, 45 lines (originally 66) in cuneiform script.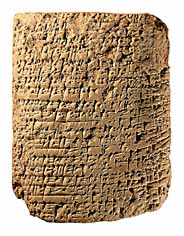 DIAGNOSES OF MEDICAL CONDITIONS WITH PROGNOSES OF THE OUTCOME, SUCH AS:

IF A MAN'S EPIGASTRIUM IS LOOSE, HE IS IN A CRITICAL STATE.

IF A MAN'S EYELIDS THICKEN AND HIS EYES SHED TEARS, IT IS A "BLAST OF THE WIND".

IF A SICK MAN IS RELAXED DURING THE DAY, BUT FROM DUSK HE IS SICK FOR THE NIGHT, IT IS AN ATTACK OF A GHOST.

IF A SICK MAN'S ADAM'S APPLE IS LOOSE, HIS SINEWS ARE DISEASED AND HIS NOSTRILS CLOSED, HE IS IN A CRITICAL STATE
Provenance: 1. Private medical library, England (ca. 1964-1998).
Commentary: Medical texts of this category are well known from Neo Babylonian literature, while from the over 1000 year older, Old Babylonian period, few survive. Many of the Babylonian diagnoses and prognoses still hold true in modern medicine.
---
MS 4575
MS in Babylonian on clay, Uruk, ca. 300 BC, 1 tablet, 7,4x5,8x2,3 cm, 31 lines in cuneiform script by one of the leading Uruk scribes, Anu-Iksur or Iqisha.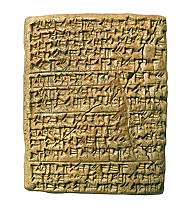 IF A YOUTH WHO HAS NOT KNOWN A WOMAN SUFFERS A PROLAPSE OF THE RECTUM, YOU CRUSH A ... AND A ... AND YOU HAVE HIM DRINK IT IN BEER, AND/OR MASSAGE HIM WITH IT IN OIL. IF IT IS NOT RELIEVED BY POTIONS OR SALVES, IF IT IS HIS RIGHT TESTICLE APPLY HEAT TO HIS LEFT SHOULDER BLADE; IF IT IS HIS LEFT TESTICLE, APPLY HEAT TO HIS RIGHT SHOULDER BLADE.

IF A YOUTH WHO HAS NOT KNOWN A WOMAN SUFFERS A PROLAPSE OF THE RECTUM, YOU BOIL UP A LIZARD; HE DRINKS THE FLUID AND HE WILL RECOVER.

IF A YOUTH WHO HAS NOT KNOWN A WOMAN SUFFERS A PROLAPSE OF THE RECTUM, YOU SIT HIM UP TO HIS WAIST IN STALE FINE FLOUR AND WHEAT FLOUR IN A ... OF ... SESAME, AND HE WILL RECOVER.

IF A YOUTH'S TESTICLES ARE INFLAMED, YOU MIX TOGETHER EQUAL QUANTITIES OF POWDERED ROAST BARLEY, AND POWDERED ...; IF IT IS SUMMER YOU KNEAD IT IN KASU-JUICE; IF IT IS WINTER, IN HOT WATER.

IF A YOUTH'S TESTICLES ARE INFLAMED, YOU "IT IS BROKEN" IN HOT WATER WHICH ...; YOU ANOINT HIM WITH OIL; YOU REPEAT THIS FOR 10 DAYS. YOU REPEAT THIS FOR 20 DAYS AS WITH INFLAMMATION OF THE INTESTINES, AND HE WILL RECOVER.

IF A YOUTH SUFFERS FROM PROLAPSE OF THE RECTUM, YOU BOIL UP ... ..., UP TO HIS ANUS; HE SHOULD SQUAT DOWN, AND ... IN FRESH CRESS, YOU WASH IT IN WATER, STEEP IT, AND AFTERWARDS CRUSH FINE, AND MIX IT UP WITH THE CRESS; YOU BANDAGE AS A POULTICE WHEN HOT TO THE ANUS AND "IT IS BROKEN" -.

IF A YOUTH'S HIPS HURT HIM, OR HE SUFFERS FROM STRANGURY, OR HIS KIDNEYS HURT HIM, OR HIS ... ARE INFLAMED, OR HE CANNOT SIT(?) DUE TO HIS ..., OR HE IS BLOATED WITH WIND, OR A TENDON IN HIS HIP, OR TESTICLE, OR HIS -
Context: This tablet is written by a member of the well-known families of leading Uruk scribes, such as Anu-iksur or Iqisha. The excavations at Warka have produced whole archives of medical, magical and scholarly texts in identical script and format. The present tablet must come from one of those archives. All the other texts from this archive are now in international museums. Thus it must represent the work of one of Mesopotamia's leading medical practitioners of the late 4th c. BC.
Provenance: 1. Warka archive, Uruk (ca. 300 BC); 2. Private medical library, England (ca. 1969-2000).
Commentary: Part of the text is quite new, and part duplicates, restores and even clarifies a medical text from Assurbanipal's library.
The text has some very unusual contents, with both unusual words and interesting ideas. The first recipe treats a problem that appears on one side of the body with an action to the other side. This peculiar Mesopotamian concept first makes its appearance in a pre- Hammurabi medical text that treats toothache, and also in some later cuneiform cures for nose-bleeds, and may be interpreted as illustrating an underlying philosophy. The action in the present instant is the application of heat, which is not known in any other medical tablet, but which we now know, may have therapeutic benefit.
There is also an interesting procedural parallel with certain therapeutic recipes in Aramaic in the Babylonian Talmud. The vehicle prescribed here for applying the medicament varies according to the time of year; i.e. in summer it should be administered cold, in a kind of juice, but in the winter it must be steeped in hot water. Exactly the same point occurs in the Talmud, implying that this, and other curative procedures, have their roots in the more ancient Babylonian praxis.
Twice the scribe has written the signs he-pi in very small script, once on the obverse, and once on the reverse. The literal meaning of this expression is "it is broken", and it serves to indicate that the medical tablet from which he was copying these recipes was itself fragmentary or damaged in certain places, implying that it was, even then, a recovered text of some antiquity. This is a very revealing point. It is clear that in both instances there is a word or two missing in the received text. The first is some element of materia medica, so we cannot be sure what it was, but in the second case, it is quite evident that the missing words at the end of the recipe must have been "... he will get better." It must have been entirely obvious to the scribe himself. Nevertheless, his deep-seated reverence for traditional textual sources and the nature of his training meant that as a copyist, his responsibility was only to transmit the text as received, and not to add to it, or improve it, or even restore it.
There is no clearer sort of evidence available from the tablets themselves than this miniature scribal gloss to highlight this characteristic attitude in ancient Mesopotamian thinking. The scribes were rigorously trained to think in this way: the texts that came down from Antiquity were to be copied and preserved just as they were received. There was no room for individual input, or creative development.