fredag den 28. september 2012
A negative pressure ventilator (often referred to colloquially as an iron lung) is a form of medical ventilator that enables a person to breathe when normal muscle control has been lost or the work of breathing exceeds the person's ability. It has been almost entirely superseded by Positive pressure ventilation intubation.
At the height of the polio outbreaks of the 1940s and 1950s iron lungs filled the hospital wards until they were superseded by positive pressure ventilators that works by blowing air into the patient's lungs via intubation through the airway. Positive pressure ventilators were used for the first time in Blegdams Hospital, Copenhagen, Denmark during a polio outbreak in 1952 where it proved a major success and soon superseded the iron lung throughout Europe.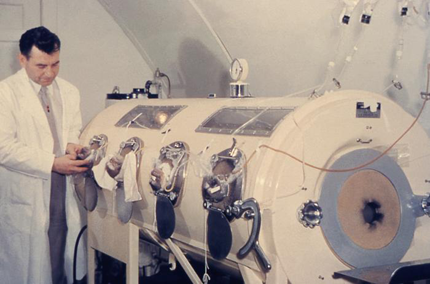 A technician calibrating an iron lung machine
Via articulomortis:
This historic photograph shows a technician calibrating an iron lung machine. These machines were used to keep polio patients alive, enabling them to breathe by creating a negatively-pressurized environment around their bodies after having been sealed inside the machine, with only their head exterior to the confines of the apparatus.