lørdag den 29. juni 2013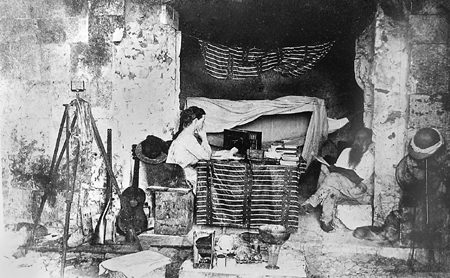 Alice Dixon Le Plongeon (1851–1910) was an English photographer, amateur archaeologist traveller, and author. Together with her husband Augustus Le Plongeon (1825–1908) she spent eleven years living and working in southern Mexico and Central America photographing and studying the ruined cities of the pre-Columbian Maya civilization. Together with her husband, she helped make some of the first photographs of ruins at Chichén Itzá and Uxmal.
Alice and Augustus camped in the center room of the Governor's Palace at Uxmal during their field work there in 1876. Note their surveying and photographic equipment, Alice's Remington Rolling Block rifle, hammock, and their dog Trinity sleeping in the corner. Not in the photo is their portable darkroom where they developed their photos. Photo by Alice and Augustus, 1876
Source: Exavation Of The Platform Of Venus, Chichén Itzá, Yucatán, México: The Pioneering Field Work of Alice Dixon Le Plongeon and Augustus Le Plongeon.